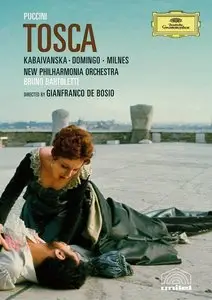 Bruno Bartoletti, New Philharmonia Orchestra, Raina Kabaivanska, Plácido Domingo - Puccini: Tosca (2007/1976)
NTSC 4:3 (720x480) | Italiano (LinearPCM, 2 ch) | (DTS, 6 ch) | 7.54 Gb (DVD9) | 115 min
Classical | Deutsche Grammophon | Sub: Italiano, English, Deutsch, Francais, Espanol, Chinese
This gripping and visually stunning film has been universally hailed as one of the most satisfying of all versions of opera on celluloid. Director Gianfranco de Bosio has given an extraordinary dimension of realism to this story of love, deception and murder by shooting it all in the original Roman location. Using diverse cinematic tricks and imaginative camerawork, this opera film is much more a visual interpretation of Puccini's music than a theatre piece filmed in original settings.