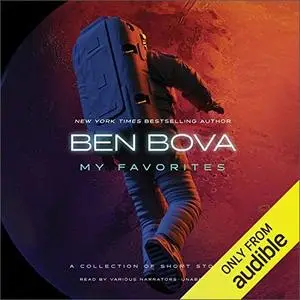 My Favorites: A Collection of Short Stories [Audiobook] by Ben Bova
English | October 13, 2020 | ASIN: B086WMB8YJ | M4B@128 kbps | 9h 35m | 522 MB
Narrators: Ben Bova, Efrem Zimbalist Jr., Alex Hyde-White, Stefan Rudnicki, Paul Boehmer, Orson Scott Card, Grover Gardner, John Rubinstein, Gabrielle de Cuir, Arthur Morey, Steven Hoye
In this new collection, Ben Bova has compiled 14 of his favorite short stories. Each story includes an all-new introduction with compelling insight into the narrative.
Exploring the boundaries of the genre, Bova not only writes of spaceships, aliens, and time travel in most of his titles, but also speculates on the beginnings of science fiction in "Scheherazade and the Storytellers," as well as the morality of man in "The Angel's Gift." Stories such as "The Café Coup" and "We'll Always Have Paris" dip into speculative historical fiction, asking questions about what would happen if someone could change history for the better. This expansive collection is a key addition for Bova fans and sci-fi lovers alike!
Stories included in this collection: "Monster Slayer," "Muzhestvo," "We'll Always Have Paris," "The Great Moon Hoax, or A Princess of Mars," "Inspiration," "Scheherazade and the Storytellers," "The Supersonic Zeppelin," "Mars Farts," "The Man Who Hated Gravity," "Sepulcher," "The Café Coup," "The Angel's Gift," "Waterbot," and "Sam and the Flying Dutchman."