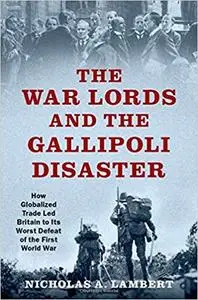 Nicholas A. Lambert, "The War Lords and the Gallipoli Disaster: How Globalized Trade Led Britain to Its Worst Defeat of the First World War "
English | ISBN: 0197545203 | 2021 | 358 pages | EPUB | 2 MB
Winner of 2021 John Lyman Book Award
Shortlisted for 2021 Gilder-Lehrman Military History Book Prize
An eye-opening interpretation of the infamous Gallipoli campaign that sets it in the context of global trade.
In early 1915, the British government ordered the Royal Navy to force a passage of the Dardanelles Straits-the most heavily defended waterway in the world. After the Navy failed to breach Turkish defenses, British and allied ground forces stormed the Gallipoli peninsula but were unable to move off
the beaches. Over the course of the year, the Allied landed hundreds of thousands of reinforcements but all to no avail. The Gallipoli campaign has gone down as one of the great disasters in the history of warfare.
Previous works have focused on the battles and sought to explain the reasons for the British failure, typically focusing on First Lord of the Admiralty Winston Churchill. In this bold new account, Nicholas Lambert offers the first fully researched explanation of why Prime Minister Henry Asquith and
all of his senior advisers–the War Lords–ordered the attacks in the first place, in defiance of most professional military opinion. Peeling back the manipulation of the historical record by those involved with the campaign's inception, Lambert shows that the original goals were political-economic
rather than military: not to relieve pressure on the Western Front but to respond to the fall-out from the massive disruption of the international grain trade caused by the war. By the beginning of 1915, the price of wheat was rising so fast that Britain, the greatest importer of wheat in the
world, feared bread riots. Meanwhile Russia, the greatest exporter of wheat in the world and Britain's ally in the east, faced financial collapse. Lambert demonstrates that the War Lords authorized the attacks at the Dardanelles to open the straits to the flow of Russian wheat, seeking to lower
the price of grain on the global market and simultaneously to eliminate the need for huge British loans to support Russia's war effort.
Carefully reconstructing the perspectives of the individual War Lords, this book offers an eye-opening case study of strategic policy making under pressure in a globalized world economy.
Read more