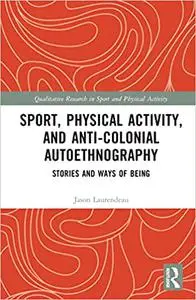 Jason Laurendeau, "Sport, Physical Activity, and Anti-Colonial Autoethnography: Stories and Ways of Being "
English | ISBN: 0367672340 | 2023 | 154 pages | PDF | 2 MB
This book offers a brief history of how autoethnography has been employed in studies of sport and physical (in)activity to date and makes an explicit call for anti-colonial approaches – challenging scholars of physical culture to interrogate and write against the colonial assumptions at work in so many physical cultural and academic spaces.
It presents examples of autoethnographic work that interrogate physical cultural practices as both produced by, and generative of, settler-colonial logics and structures, including research into outdoor recreation, youth sport experiences, and sport spectatorship. It situates this work in the context of key paradigmatic issues in social scientific research, including ontology, epistemology, axiology, ethics, and praxis, and looks ahead at the shape that social relations might take beyond settler colonialism.
Read more