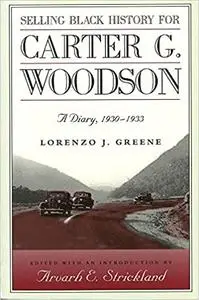 Arvarh E. Strickland, "Selling Black History for Carter G. Woodson: A Diary, 1930-1933 "
English | ISBN: 0826210694 | | 440 pages | EPUB | 6 MB
In the summer of 1930, Lorenzo Johnston Greene, a graduate of Howard University and a doctoral candidate at Columbia University, became a book agent for the man with the undisputed title of "Father of Negro History," Carter G. Woodson. With little more than determination, Greene, along with four Howard University students, traveled throughout the South and Southeast selling books published by Woodson's Associated Publishers. Their dual purpose was to provide needed funds for the Association for the Study of Negro Life and History and to promote the study of African American history. Greene returned east by way of Chicago, and, for a time, he settled in Philadelphia, selling books there and in the nearby cities of Delaware and New Jersey. He left Philadelphia in 1931 to conduct a survey in Washington, D.C., of firms employing and not employing black workers.
Read more