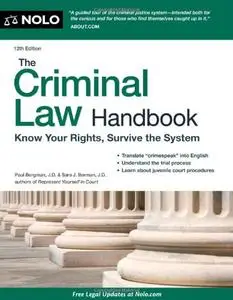 The Criminal Law Handbook: Know Your Rights, Survive the System, 12 edition by Paul Bergman J.D., Sara Berman J.D.
English | 2011 | ISBN: 1413316204 | 680 pages | PDF | 4,8 MB
Criminal law rules and procedures, explained in plain English.
The criminal justice system becomes increasingly complex each year as new laws and decisions can change legal standards dramatically. And at a time when even law enforcement is being affected by hiring freezes and budget cuts, the result is fewer resources and public programs for those accused of crimes, and their friends and families. That's why it's crucial that you have access to clear and complete explanations of all aspects of criminal law and procedure.
The Criminal Law Handbook answers your questions about every part of a criminal case, from cops to crooks. Find out everything you've ever wanted to know about how the system works, and the how and why police, lawyers and judges doing what they do. It covers:
arrests
booking
preliminary hearings
charges
bail
courts
arraignment
search and seizure
defenses
evidence
trials
plea bargains
sentencing
juveniles, and
"crimespeak," the language commonly used in criminal statutes.
The revised 12th edition covers all new Supreme Court rulings, as well as completely updated, meticulously researched changes to case law and new information on domestic violence law.
My nickname -
interes