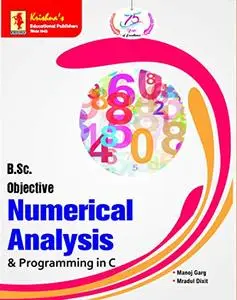 Krishna's BSc. Obj. Numerical Analysis & Programming in C
English | 2021 | ASIN: B0943ZDKGM | 188 Pages | PDF | 6 MB
SYLLABUS- B.SC. OBJ. NUMERICAL ANALYSIS & PROGRAMMING IN C,
Numerical Analysis
Unit 1
Shift operator, Forward and backward difference operators and their relationships, Fundamental theorem of
difference calculus, Interpolation, Newton-Gregory's forward and backward interpolation formulae.
Unit 2
Divided differences, Newton's divided difference formula, Lagrange's interpolation formula, Central differences,
Formulae based on central differences : Gauss, Striling's, Bessel's and Everett's interpolation formulae, Numerical
differentiation.