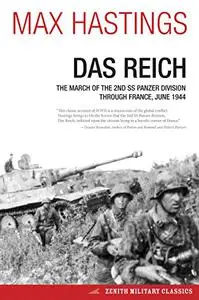 Das Reich: The March of the 2nd SS Panzer Division Through France, June 1944 (Zenith Military Classics) by Max Hastings
English | June 15, 2013 | ISBN: N/A | ASIN: B00DEJRURA | 303 pages | EPUB | 3.06 Mb
World-renowned British historian Sir Max Hastings recounts one of the most horrific months of World War II. June 1944, the month of the D-Day landings carried out by Allied forces in Normandy, France. Germany's 2nd SS Panzer Division, one of Adolf Hitler's most elite armor units, had recently been pulled from the Eastern Front and relocated to France in order to regroup, recruit more troops, and restock equipment. With Allied forces suddenly on European ground, the division—Das Reich —was called up to counter the invasion. Its march northward to the shores of Normandy, 15,000 men strong, would become infamous as a tale of unparalleled brutality in World War II. Das Reich is Sir Max Hastings's narrative of the atrocities committed by the 2nd SS Panzer Division during June of 1944: first, the execution of 99 French civilians in the village of Tulle on June 9; and second, the massacre of 642 more in the village of Oradour-sur-Glane on June 10. Throughout the book, Hastings expertly shifts perspective between French resistance fighters, the British Secret Service (who helped coordinate the French resistance from afar and on the ground), and the German soldiers themselves. With its rare, unbiased approach to the ruthlessness of World War II, Das Reich explores the fragile moral fabric of wartime mentality.
Feel Free to contact me for book requests, informations or feedbacks.
Without You And Your Support We Can't Continue
Thanks For Buying Premium From My Links For Support