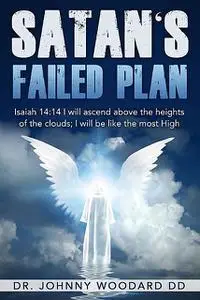 «Satan's Failed Plan: Isaiah 14» by Johnny Woodard DD, TBD
English | EPUB | 0.4 MB
Dr. Johnny Woodard is President of The Bread Of Life International Bible Correspondence Institute, which has students in well over 100 foreign countries, and in all 50 states in America. He and his wife Jewel reside in Kirbyville, Texas, where he works out of his office sending out Bible Correspondence Courses, Bibles and other Gospel materials.
He and Jewel were both saved at an early age, Dr. Woodard, when he was seven years of age at Little Cypress Baptist Church in Orange, Texas and Sis. Jewel at First Baptist Church in Kirbyville, Texas when she was thirteen years old. Dr. Woodard begin preaching God's Word in 1979 and has pastored several Baptist Churches in Texas and Louisiana. He traveled to Israel on a mission trip with Dr. Jack Meeks in 1995 and was asked to join the Bread of Life Baptist Mission and assume the Presidency of the Bible Correspondence Institute. He also has designed many gospel tracts, all of the Bible courses for the Correspondence School, as well as authoring several books.