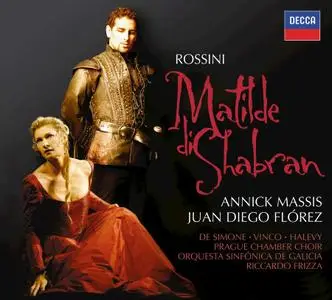 Riccardo Frizza, Orquesta Sinfónica de Galicia - Rossini: Matilde di Shabran (2006)
EAC (flac, image, cue, log) | TT: 185:15 | Covers | 826 Mb
Classical | Decca | # B0006859-02 | Rec: 2004
Premiered in 1821, Matilde di Shabran was Rossini's 32nd opera. It is a semi-serious work, with a plot that concerns a woman-hating, militaristic, hypochondriacal Lord (Corradino) whose doctor (Aliprando) tries to get him to fall in love with his ward, the sharp-witted Matilde, in order to make him happy. There are buffo characters and Corradino, after falling for Matilde, almost has her executed when he's duped by a Countess who loves him into thinking Matilde loves another. But a comic character, Isidoro, the court poet, saves the day and all ends happily.