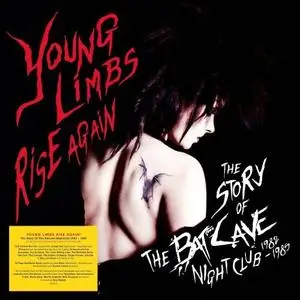 VA - Young Limbs Rise Again - The Story Of The Batcave Nightclub 1982 - 1985 (2023)
MP3 320 kbps | 6:15:56 | 851 Mb
Genre: Rock Pop / Label: Edsel
London 1982. As the new romantic youthquake of 1981/1982 faded, and after what felt like a lifetime since punk's last gasp, a tiny nightclub opened its doors in London's Soho. Drawing to it a new generation of misfits and miscreants with a penchant for polysexual hedonism, for dressing up and showing out, The Batcave became the dark heart of alternative club culture, just like The Roxy and The Blitz before it.Art school students, ex-punks and psychobillys, boys and girls, gays, straights, don't-knows and don't-cares, Camden and Kensington Market stallholders, professional squatters, kids on the dole, kids in bands, nocturnal music journalists, edgy fashionistas, androgynous randoms and even a smattering of bona fide popstars – from Nick Cave to Siouxsie Sioux, Marc Almond, Robert Smith, Killing Joke and Sigue Sigue Sputnik. All were welcome to pile in, gawp at the hair, ripped, torn, bleached and rubberised fashions, and death-mask make-up and take in the dancefloor's heady musical mix of beats-heavy post-punk pioneers, outsider icons like Wayne County and The Cramps, and a teetering pile of lusty glam rock singles from the likes of T. Rex and The Sweet.