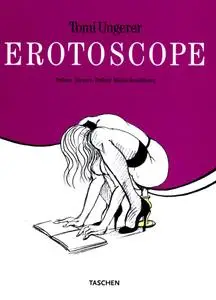 Erotoscope, Tomi Ungerer
Taschen, 2002 | English / French / German | CBR | 409 pages | 91.5 MB
Alsatian artist Tomi Ungerer has published some 150 books during the past four decades in his quest to open people's minds and abolish bigotry of all kinds. Though best known for his imaginative children's books, Ungerer's fantastic (and often controversial) erotic drawings deserve equal attention. This new book is a retrospective of his erotic oeuvre, including 200 images covering all aspects of his erotic work and almost 200 previously unpublished drawings. From the very original ""he Joy of Frogs"" to his erotic flowers series (""""rare"" flowers with such names as ""Spermafloris linguifolium"" and ""Perivagina superba""), Tomi Ungerer's work stretches the imagination and is marked by a very original style.